"If the friend I love most treated me the way I treat Christ, would I be pleased or saddened?" - Fr. John Bartunek in the study group questions at the end of the mediation on Luke 3:21-38 in
The Better Part
.
This really got to me today. I remember from
Consoling the Heart of Jesus
that the great insight from Jesus's revelation of his Sacred Heart to St. Margaret Mary is that he has a human heart like ours. You remember this one too, right?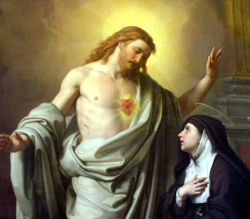 "Behold this Heart which has loved men so much, and yet men do not want to love Me in return. Through you My divine Heart wishes to spread its love everywhere on earth."
- Jesus to Saint Margaret Mary in a vision

Fr. Gaitley in
Consoling
, taught me to identify with the unrequited love of our Savior and why our foundation can be to console him by devotion to Him, and relieving him of some of this sadness.
I pondered the question and thought it could be answered three ways:

1) Directly:
How and how often do I give my love, gratitude and praise to Jesus?
How often do I witness . . . tell other people how good He is to me, show others how much I love Him?
How often and for what do I thank him?
2) Indirectly (considering Christ's Teaching in the Last Judgment):
How do I show him love, respect, kindness, generosity "to one of the least of these"

3)
What is it about the friend, or friends that has me loving them the most?
Thoughtful consideration and caring
Encouraging me, often when I need it most
Combining both--in consideration for when I might be down or struggling reaching out to me and encouraging me
Defending me, not just from others, but from my worst critic . . . myself
Kindness, especially the kindnesses of listening to me, sincerely asking me how I'm doing, and not changing the subject when it looks like I just took us both down the rabbit hole
Saying, "I'll pray for you"
Actually praying for me

My thinking, or rather the Holy Spirit's guidance, further led me to reflect more on the Last Judgment. Just as we have through the Church the teaching of the corporal and spiritual works of mercy, I think the Lord meant his teaching on both levels as well.
It is pretty clear the Lord does will us to feed the hungry, give drink to the thirsty, clothes to the naked, and to visit those in prison and those who are sick.
Then I thought about how "prisons" isn't just for those in orange jumpsuits with walls, bars, alarms, and barbed wire. Many of us, maybe all of us are in prisons of circumstance. The situations we are in, sometimes very much due to our sins, the sins of others, unwise choices, or the miscarriage of justice all put us in positions we cannot easily escape.
Then I thought about how sick our souls, our hearts, our conscious minds are, not realizing the dignity God gave us, not treating others with the dignity and love they deserve as children whom our God, Father, Son, and Holy Spirt loves so dearly. There is the woundedness some of us are aware of, and others of us deny or are unaware exists. We are all sick, all in need of healing. When we do not receive the forgiveness we crave from those we love . . . when we don't have the love, encouragement, affection we need to warm our hearts . . . we are sick. When we are mourning, grieving, we are sick.
Realizations:
Jesus is the Savior I love most and most want to please.
All of us are the least of these.
All of us are the mystical body of Christ.
Besides cooperating with the Holy Spirit in my prayer and recollection training I can show love to Jesus by following his command.
Learning from the friends I love most, I can show my love to Jesus by caring consideration, thoughtful support and encouragement, showing kindness: including the kindness of "being present" and really listening, and by actually praying for someone.
Just as I appreciate when someone comes to my defense, so I should also defend Christ and by extension his Church.
-----------------------------------
This last one requires prudence and a careful meditation on St. Paul's words in Romans:
So do not let what is good to you be spoken of as evil . . .
Romans 14:16
As for the man who is weak in faith, welcome him, but not for disputes over opinions. Who are you to pass judgment on the servant of another? It is before his own master that he stands or falls. And he will be upheld, for the Master is able to make him stand. Why do you pass judgment on your brother? Or you, why do you despise your brother? For we shall all stand before the judgment seat of God. Then let us no more pass judgment on one another, but rather decide never to put a stumbling block or hindrance in the way of a brother.
Romans 14:1,4,10,13
------------------------------------------
"A new commandment I give unto you, that you love one another, as I have loved you."
John 13:34
Nothing so delicate and so sacred as the human soul; nothing so quickly bruised.
Let each of our words and deeds contain a principle of life that, penetrating to other spirits, will communicate light and strength, and will reveal God to them.
Above all we must ask God to fill us with an intense charity - the Love of God that renews and transforms the soul and life and becomes the secret cause of our acts . . . the powerful and living love of souls, the love of all that suffers and laments.
I believe much more in individual effort, and in the good that may be done by addressing oneself not to the masses but to particular souls . . . . Jesus, our model, did the same. Following Him, let us turn with tenderness to every person, however poor or sinful.
(Let us remember) humanity is made up of human beings and that each one of them needs the light and strength that God gives, and it belongs to us to spread this light as far as we can.
To serve souls I must first have purified and strengthened my soul for many days.
Finally her prayer, which is my prayer too:
Help me see plainly, Father, what are my greatest duties and give me the resolute strength to fulfill them in ways that will please you and show your light and love to others.

Help me to do each day, humbly, so that God alone may see it, all the good that I can do; always to seek out all the misery and grief within reach in order to relieve them; to cultivate in myself a lively sympathy for everyone; and to do all of this for God alone.
God, you can transform my life, my soul to be in close union with you.
Around me are souls I love deeply that do not know God or know Him imperfectly.
It is not in arguing or lecturing that I can make them know what God is to the human soul.
But, in struggling with myself, in becoming with your help, Lord, more Christian . . . I will bear witness to Him whose humble disciple I am.
In Jesus Name, Amen!
----------------------------------------------
Holy Spirit confirmation from Romans:

Owe no one anything, except to love one another; for (she) who loves (her) neighbor has fulfilled the law. The commandments are summed up in this sentence, "You shall love your neighbor as yourself." Love does no wrong to a neighbor; therefore love is the fulfilling of the law. Romans 13:8-10