Is it possible? It is for some. They don't post unless it fits their blog theme, and they make every word count.
I usually think to write after the Lord teaches me something. He has been teaching me from the book of Wisdom lately. I think it is the Holy Spirit that is drawing me back to that book so often over the last year. This is one content rich book.
I've been reading and re-reading it in three translations:
Douay-Rheims, RSV-2CE, New Jerusalem.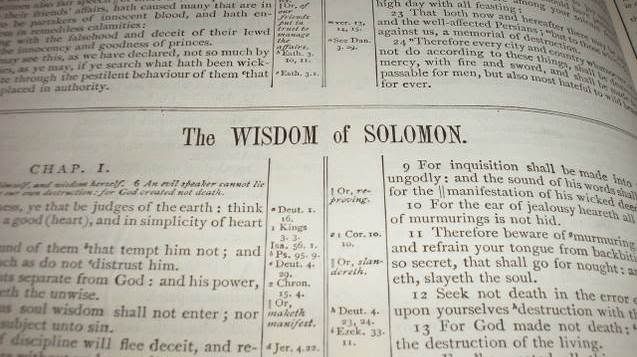 Inspirational quotes from just the first 5 chapters.
Seek him with sincerity of heart

(from Wis. 1:1)
He

manifests himself to those who have faith in him (from Wis. 1:2)

The just shall shine (from Wis. 3:7)
Their Lord shall reign forever (from Wis. 3:8)
For the precious gift of faith shall be given to him (from Wis. 3:14)
There were some who pleased God and were loved by him (from Wis. 4:10)
His soul being pleasing to the Lord (from Wis. 4:14)
Behold, how they are numbered among the children of God, and their lot is among the saints. (Wis: 5:5)
For the fruit of honest labours is glorious. (Wis.3:15)
Here's a comforting and encouraging teaching that appears twice:
Those who trust in him will understand the truth, those who are faithful will live with him in love;

For grace and mercy await his holy ones, and he intervenes on behalf of his chosen.

(Wis. 3:9 NJB)

They that trust in him shall understand the truth; and they that are faithful in love, shall rest in him; for grace and peace are to his elect. (Wis. 3:9 (DRB)
That grace and mercy await his chosen ones and that he intervenes on behalf of his holy ones.

(Wis. 4:15)

But the upright live forever,


Their recompense is with the Lord, and the Most High will take care of them.

For he will shelter them with his right hand and with his arm will shield him. (Wis. 5:15, 16b)
I don't even think I can keep this under 500 words, let alone 200.
What these words stir up in me is holy desire. Do you desire, like me, to seek God with sincerity of heart? I don't seek God because of the promises of rewards. I am not attracted to those verses in the Bible. Sincerity of heart . . . the heart he created.
I remember the nuns, well, Sr. Angela in particular, telling us that we can repent of our sins because of either fear of punishment or because we are sorry because we offended God and we love Him, and that the second one was better. Of course it is better to love God than to just fear the punishment of God. It seems just as shallow to me to get fired up for God because of the promise of reward, even though he offers it.
The blessing of having a sincere heart is seeking after God, wanting to read the Scriptures as his love letter, wanting to spend time in Adoration in front of the Blessed Sacrament, wanting to receive Jesus in Holy Communion because He has loved me, and I love him. Holy Desire, holy affection. But what of dryness when the Lord tests our will when we persist in our acts of Love even when we don't feel holy affection. Wisdom has a verse for that too:
God was putting them to the test
and has proved them worthy to be with him;
he has tested them like gold in a furnace,
and accepted them as a perfect burnt offering.
At their time of visitation, they will shine out. (Wisdom 3:5b-6)
He revealed himself to me, and he revealed himself to me not just in knowledge in the Catechism about his attributes, but to my spirit, my heart, he reveals himself as Love, as Goodness, as Mercy. His Son reveals the gentleness and kindness of God, and the completeness of his total self-giving in order to make this whole experience of communing with Him in my spirit possible. It is my holy desire that the gift of faith given to me would be cultivated in me by the sanctifying work of the Holy Spirit, that my soul would be pleasing to the Lord.
I know I trust in Him ultimately, and I know I need to trust in him more in the moment, no matter how ordinary or no matter how unexpected or pivotal. I know truth, because I know Jesus who is the way, the truth and the life.
I put my trust in him and I delight that our Lord will live forever, that the Most High takes care of us, that - Praise be to God - Grace and mercy await us and He intervenes for us!
I believe the Most High doesn't just intervene for us at the moment of our personal judgment when he grants our salvation because of our belief and trust in Jesus the beloved Son of God who sacrificed his life to save us, but also that he intervenes in the here and now. Even now God shelters and shields us. What you have pain, and suffering, and disappointment, and sorrow? If he permits it, it is for your good, and if you unite the suffering with that of His Son, for the good of others that they might come to know Jesus, and walk eternally with Him. That they might know grace, mercy, peace, and God's intervention on their behalf too!
(Word Count 907; 200 Word Post is not possible for this inadequate disciple!)
In fact, it is going to continue now because I lament that t

he Protestant Canon excludes this book. It isn't part of their 66 book Bible. It is a shame. It is such a great book. It also seems to teach against the Calvinist doctrines of :
The total depravity of man

The sovereign unconditional election of God

The irresistible grace of God
When I read
They that trust in him shall understand the truth; and they that are faithful in love, shall rest in him; for grace and peace are to his elect. (Wis. 3:9 (DRB)
It says to me that it takes the response of man to trust in God in order to understand the truth. Then those that are faithful to the truth, the Law of Love, the commandments of the Most High, they find rest in God – because grace and peace are to his elect. They are elect, because they trust, because they understand truth, and because they are then faithful in love.
They are not elect, simply because they are elect. They do not come to understanding of the truth or become faithful because of irresistible grace. They do not come to understand or be faithful apart from grace, but they do have free will, and they must respond with trust in order to receive the gifts of salvation: grace and peace. This thought coincided with statement by Marcus Grodi with a Presbyterian minister on Journey Home. Those who believe in pre-destination do not put value on the Fiat of Mary. One of the reasons they do not understand the veneration of Mary is they do not put value on free will response. Mary could have said no, instead of "I am the Handmaid of the Lord. Be it done unto me according to thy word.". So could all of us. Even St. Paul, knocked on his behind by the brilliant, glory of Christ the King, could have said no, although that particular conversion is as close as one might experience to the "irresistible grace of God"!